Independence Day is just around the corner, and if you're in the Long Beach area, you're in for a treat. Get ready to witness breathtaking fireworks displays lighting up the sky as communities come together to celebrate the nation's birthday. From the bay to downtown and neighboring cities, there are plenty of options to choose from. Let's explore some of the best spots to catch the dazzling fireworks shows happening this Fourth of July.

1. Big Bang on the Bay (July 3) at Boathouse on the Bay:
Prepare for an unforgettable experience as the skies over Alamitos Bay, Naples, and the Peninsula come alive with a 30-minute fireworks show. While you can catch the display from various spots near the bay, you can also enjoy the full block party experience at Boathouse on the Bay, complete with barbecue, performances, aerial shows, and prime seating. Tickets start at $75 for adults and $30 for children, with proceeds going to charity.

2. Downtown Long Beach waterfront (July 4):
Head to the Downtown Long Beach waterfront for a magnificent fireworks show above the iconic Queen Mary. Find a spot at Shoreline Aquatic Park or Marina Green Park early to secure a great view. For a more exclusive experience, embark on a Harbor Breeze Cruise from Rainbow Harbor, offering a unique vantage point from the water. Tickets start at $50 per person. Alternatively, you can join the celebration on the Queen Mary itself, featuring live music, a kid zone, and food and beverages available for purchase. Tickets cost $39 for adults and $19 for kids 12 and under.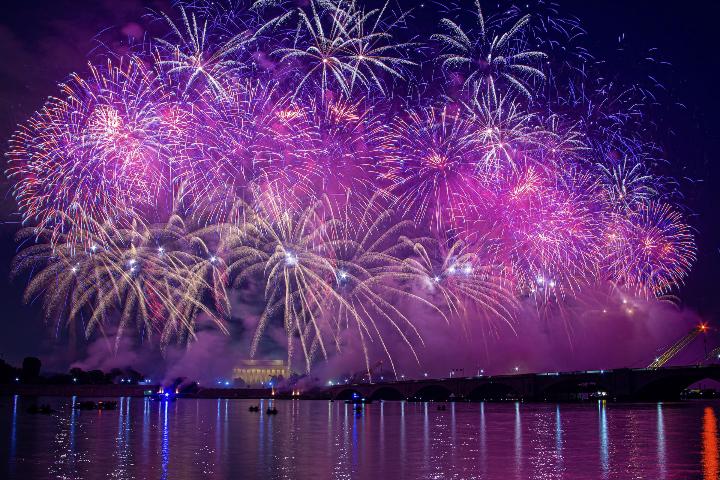 3. San Pedro (July 4):
Cross the bridge to San Pedro and enjoy their fireworks spectacular at Cabrillo Beach. Set to start around 9 p.m., the John Olguin 4th of July Fireworks Show can be viewed from the beach. For a more enhanced experience, consider purchasing tickets for the party at the Cabrillo Beach Youth Waterfront Sports Center, which includes barbecue, live music, dancing, and front-row seats for the fireworks. Tickets are $75 for adults and $25 for kids.

4. Cerritos (July 4):
If you prefer to stay closer to Cerritos, join the 50th Annual Let Freedom Ring Celebration at the Cerritos Civic Center. Enjoy food trucks, game booths, and rides starting at 4 p.m. The festivities continue with a formal ceremony, live music, and culminate in a fireworks show at Cerritos High School at 9 p.m. Bring your chairs and blankets for a comfortable viewing experience. All-day ride wristbands are available for $35, and individual ride tickets can be purchased for $1.50 each.


This Fourth of July, Long Beach and its neighboring communities offer a range of spectacular fireworks displays to celebrate Independence Day. Whether you choose to enjoy the show from the bay, the downtown waterfront, or explore nearby cities like San Pedro and Cerritos, you're in for an evening filled with dazzling lights, live music, delicious food, and a sense of community. Grab your family and friends, find the perfect spot, and get ready to be mesmerized by the awe-inspiring fireworks displays that will illuminate the night sky.