Hello to all the passionate music aficionados and talented artists out there!
At 562 LIVE Radio, we've always been in the vanguard of championing emerging talents and ensuring that artists get the recognition they deserve. Today, we're beyond thrilled to unveil something that will significantly change the trajectory of your musical journey. Introducing... The Custom Digital Marketing Plan for Artists brought to you by our esteemed partner, MyMusicPromoter.com!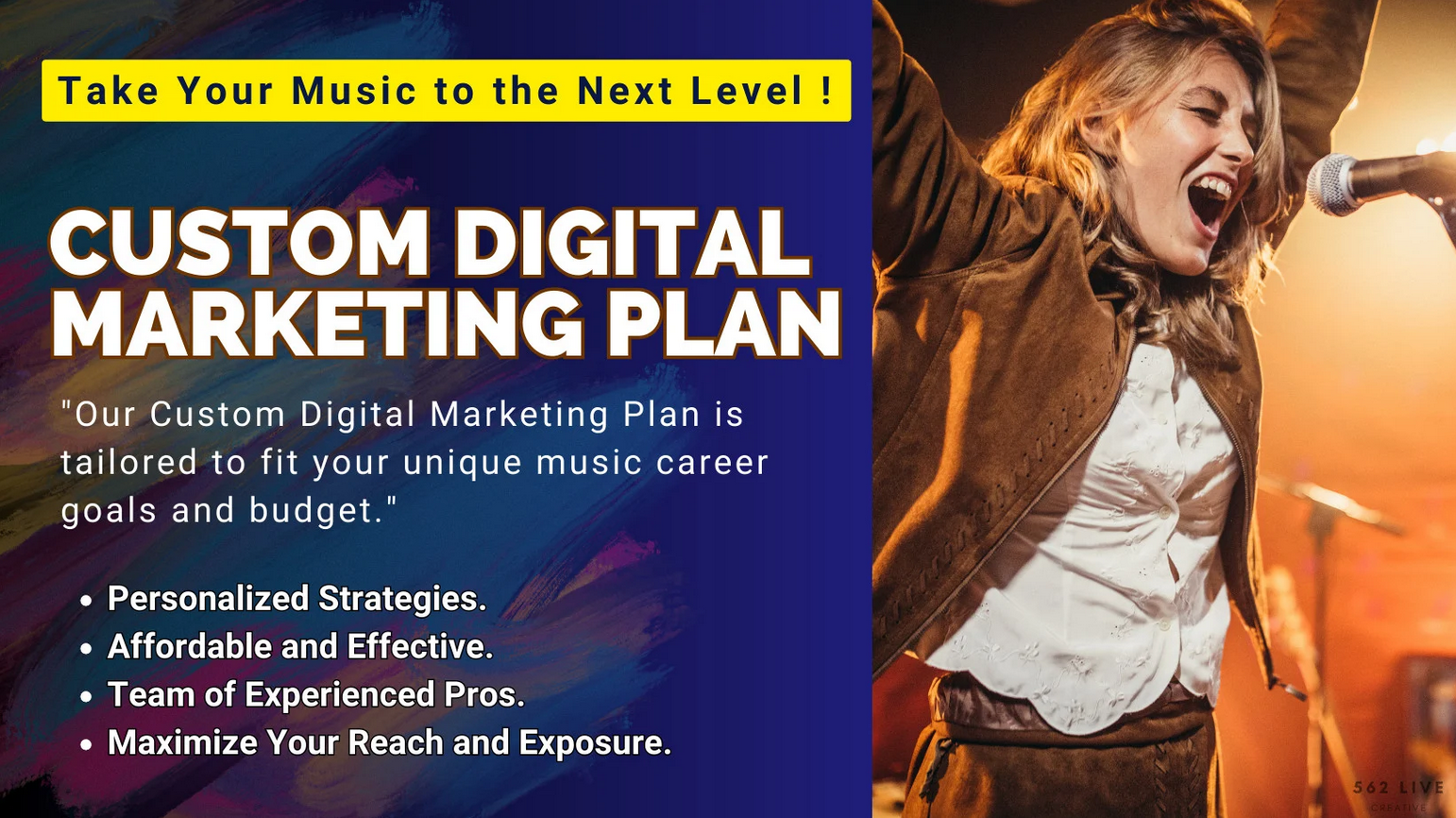 🌟 What is the Custom Digital Marketing Plan for Artists?
In today's fast-paced digital age, it's not just about creating amazing music; it's about making sure it reaches the right ears at the right time. Recognizing the unique challenges and needs of every artist, MyMusicPromoter.com has meticulously crafted a plan that's tailor-made for YOU. This plan is not a one-size-fits-all solution. It's a bespoke strategy, sculpted with your music, brand, and aspirations at its core.
💥 Features:
Personalized Strategy: A thorough assessment of your current online presence, brand, and music to devise a plan that resonates with your vision.
Platform Optimization: Guidance on leveraging various platforms like Spotify, YouTube, Instagram, and more to their fullest potential.
Engagement Boosting Techniques: Strategies to enhance your online interaction with fans and grow your audience base.
Content Calendars & Roadmaps: Never be at a loss about what to post or share. Stay ahead of the game with planned campaigns.
🎉 Exclusive Limited-Time Offer:
To celebrate this collaboration and give back to our community, there's an unmissable deal! Grab this Custom Digital Marketing Plan for Artists at just $25.00! Yes, you read that right. But remember, it's for a limited time only. So if you're an artist looking to turbocharge your online presence and audience reach, this is the sign you've been waiting for.
🎤 Why Partner with MyMusicPromoter.com?
For those who might be new to their services, MyMusicPromoter.com is renowned in the music industry for their unparalleled expertise in helping artists navigate the often overwhelming world of digital marketing. They understand the nuances, the shifts, and the pulse of the online music landscape.
🎧 Wrapping it up:
562 LIVE Radio is always on the hunt for paths that lead our artists to success. We genuinely believe that this collaboration with mymusicpromoter.com will pave the way for numerous success stories. So, don't wait! Amplify your music, extend your reach, and watch as your dreams take flight.
Get your Custom Digital Marketing Plan HERE and make the magic happen!
Stay groovy and keep the music playing,
The 562 LIVE Radio Team